Collaboration – Simplifying The Matrix
On creating a culture of effective collaborations in order to survive, and certainly in order to succeed. The secret of simplicity in a complicated world.
Omri Gefen
"If you have an apple and I have an apple and we exchange these apples then you and I will still each have one apple. But if you have an idea and I have an idea and we exchange these ideas, then each of us will have two ideas."
George Bernard Shaw
What innovations could we possibly suggest in the field of collaboration? After all, most of us, and certainly the managers among us, engage in collaborations on a daily basis and have done so for years. We're required to collaborate with our spouses, with our neighbors in our building or in our community, in the organization – within them or with their surroundings, and at some level, with all arenas we belong and operate.
The point is that it is becoming so 'obvious', that we fail to see the question: what isn't obvious. We have a blind spot regarding the issue, which often results in collaborations of a lesser quality than what we could potentially achieve. Many of our collaborations are mediocre or worse. People and organizations accept it as "fine", and are not enough aware of the alternative of high level and high velocity collaboration. We will not always take full responsibility on collaboration because we tend to see the other as the main source and cause for bad collaboration.
Most couples either divorce or lead a solely instrumental partnership; most international mergers fail to achieve the targets underlying the merger and even produce less value, as compared to their past situation; most projects, from building to IT, require more resources than planned and create costly conflicts; and so forth. The explanations for these realities are varied and diverse, and in this article we shall discuss them in the organizational context. In addition, we shall suggest an innovative interventional and diagnostic model which allows looking at the issue from a new perspective.
There are significant barriers at the universal level, also affecting the organizational reality, which obstruct the realization of effective collaborations. Many times, leaders and stake holders are not aware of these barriers, so we can also determine them as "Blind spots". These are the main and most significant:
The Cultural Blind Spot
We live in a society that espouses and encourages a competitive attitude (beginning at the kindergarten, through movies, games, politics, business etc.). We have a dichotomous view which distinguishes between winners and losers. One could argue that this originates from the Darwinist theory which assumes that in nature, the strong survive. Such an assumption would seem to justify competitive behavior, and yet even Charles Darwin himself realized that this isn't necessarily true, stating that " In the long history of humankind (and animal kind, too) those who learned to collaborate and improvise most effectively have prevailed."
Nature is smart and teaches us that given certain conditions, collaboration between individuals of the same species and between different species increases the chances for survival of all members. This is certainly true with regard to social systems, where the interdependence between the various elements is high and when dealing with long-term relationships. Still, we tend to see others as competitors. When the situation is of cross-cultural collaboration, this tendency strengthens.
The Physiological Blind Spot 
Beyond the cultural aspect there lies the physiological aspect. William Ury in his book "Getting past No" describes human beings as "Reaction Machines". Our reactions range between three automatic reactions in situations of danger and survival – Fight, Flight, Freeze. These reactions are the result of the human brain structure, and specifically the Amygdala gland, which responds to stimuli perceived to be threatening and which manages the behavioral response to such stimuli. In the last decade, researchers discovered that the Amygdala drives us also in social situations, and not only in situations of physical survival. This means that when we feel attacked, threatened or in competition with someone, our ability to control and choose our action is limited. It means that in daily life, in practice, collaboration becomes a big challenge for us. Self awareness and structured tools help us to develop such control and manage the interaction while it is equipped with a wider range of practices and options.
The Relationship's Blind Spot 
And the most obvious: we all have a difficulty with relationships. In every aspect of life, relationships and particularly their preservation, are among the greatest challenges for human beings. This is linked to our difficulty to trust others, to rely on them, to listen, to understand, to accept without judging, to take responsibility over our relationships, to contain those who different from us, our attempts to change the other and so on and so forth. As Henry Ford said: "Coming together is a beginning; keeping together is progress; working together is success."
Many executives in various organizations report that they have difficulties in creating collaborations and a culture of collaboration. Except of the major blind spots mentioned here, there are numerous organizational factors, obstacles and challenges which influence this at both the personal and system levels.
The Organizational Structure Challenge
One of the most complex challenges stems from the fact that the knowledge no longer resides at the "top" of the organizational structure. The expertise and accumulated knowledge is often located at lower levels of the organization, on which both superiors and other divisions requiring their services, become increasingly dependent. These "knowledge and expertise holders" are not necessarily obliged to the different "users".
An even greater challenge exists in matrix organizational structures. Under the matrix management approach, project managers must be highly skilled in enlisting and mobilizing people to collaborate, due to the lack of direct authority over project team members. Even more so, when dealing with management of young people. Due to the social global revolution, young employees and managers strive to be involved and influence, and do not like working in a hierarchy and subject to unilateral decisions and dictates. They do not appreciate hierarchy; and when it is forced upon them, they would move elsewhere, to a more flexible structure. They prefer to cooperate with others. The same principle applies also to the field of collaboration – they will not collaborate when collaboration is dictated, unless they understand the need, and be engaged.
And let us not forget – in the complexity of this era, no goal can be achieved alone. Any project in any organization does not belong solely to one discipline. No action against global terrorism can succeed with only one agency or country. A school staff that wishes to prevent violence in the school will not be able achieve that without the help of the parents, and so on, in every level and aspect of life.
The Organizational Culture Challenge
As we know, many organizations are based on a clear goal that demands a DNA of mission orientation and competition, especially sales, the military etc. Can one expect an effective collaboration between different parts of an organization with a competitive DNA? An organizational culture promoting competitiveness, silos and territoriality does not encourage collaboration,  – even if the head of the organization talks about 'synergy' or 'jointness'. Competitive characteristics may be quite relevant and even healthy for some organizations, and yet one cannot expect these organizations to be able to collaborate successfully. This internal contradiction when it exists must be taken into account and not ignored.
Hensen in his book "Collaboration" describes the race that took place in 2000-2001 between Apple and Sony over the new product in the field of MP3. Apple's iPod project began on February 2001 and was completed by October 2001. Apple employees describe a rare process of 24-hours-a-day collaborative work, involving all the units in the company as well as external elements. The product was launched earlier than expected. At the same time, the development process at Sony took much longer than expected, with many conflicts on the way. The "Connect" was out in the market in 2004, much too late. Wall Street Journal's Phred Dvorak commented on this project: "Sony has long thrived on a hypercompetitive culture, where engineers were encouraged to outdo each other, not work together." This is an example for the direct linkage between organizational culture, collaboration, and results.
The Leadership Challenge
A key success factor for executives and leaders who make decisions within and around their organizations is to identify their blind-spots with regard to collaboration. Executives must identify and understand the barriers and traps before they provide solutions. These solutions must be adapted according to the situation analysis and not taken 'off the shelf'.
In one of the processes we directed, we observed an almost complete rift between the various divisions and between the senior management and middle management of the organization. Executives in the organization described the feeling as having "Chinese walls" erected since the new CEO came into office, and did not believe in the possibility of change. In this case, change only began to occur after the head of the organization took responsibility for his part in creating this situation, and introduced a change in attitude and in policy.
Leaders and executives must adopt a unique mindset of collaboration. The operational meaning of this is that they must conduct themselves according to patterns and principles of collaboration, set aside their egos, put their trust in other executives and look at the wider best interest of the organization and beyond the narrow view of personal needs. They must be proactive in the promotion of collaborations within the organizations and take responsibility for them. The former U.S. President Harry S. Truman said in this regard: "It is amazing what you can accomplish if you do not care who gets the credit."
All the barriers and challenges described above seems to provide an adequate explanation to the question "How can highly intelligent and experienced people so often miss and make mistakes when it comes to collaboration?"
Such mistakes are usually very costly for organizations. The result is bad collaboration characterized by splits and separateness and the lack of focus on results.
Many senior executives often fall into these traps because these traps are unfamiliar and misunderstood, and are often hidden under the surface. Executives fall into these traps also because they lack a structured, professional framework with which to structure and promote collaborations in and between organizations.
ECA – Effective Collaboration Analysis Model
The ECA Model® is one of the innovative tools developed in order to assist in the accurate diagnosis of collaboration in an organization. This model allows to focus and make exact decisions for improving the collaboration, if one wishes to do so. The tool is called ECA – Effective Collaboration Analysis Model, and it works both in the internal organizational aspect between various units, and in collaborative interfaces between organizations and in complex systems. The power of this tool lies in its simplicity.
The model was developed based on the assumption that structured approach and tools are required in order to diagnose, evaluate, analyze and subsequently improve collaborations. Just like every organization has an ordered methodology for project management, budget management, schedule management etc., it requires a system which provides practical tools for the evaluation and management of collaborations.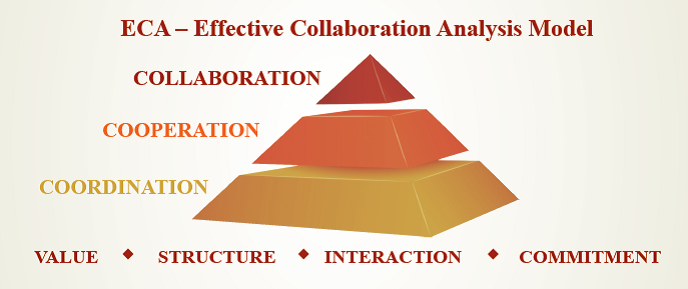 The model is founded on four parameters, the four 'essential nutrients' of collaboration:
Value – the potential gain for each participant and organization in the collaboration.
Structure – the formal and structural aspects of the collaboration. The key question to be answered here is: To what extent does the organizational structure facilitate and promote the collaboration?
Interaction – the 'partnership language' – the informal relationship between the participants.
Commitment – the actual level of investment in the collaboration at the  implementation and practical level.
In order to evaluate each of these parameters we have developed a diagnostic questionnaire which consists of six to eight questions, the answers on a scale of 1-7, for each parameter. These are the variables relating to each of the parameters:
Value
Potential – the optimal possibility for realizing value.
Achievement of separate goals – the level of contribution of collaboration between the parties to the realization of the distinctive goals (personal and organizational) of each participant.
Vision and values – the level of contribution of collaboration between the parties to the realization of each party's vision and value.
Interests and needs – providing a response to the interests and needs of the participants.
Structure
Organizational structure – the extent to which the overall organizational structure facilitates the collaboration.
Information systems – the existence of an effective IT system facilitating the collaboration.
Responsibility and authority – the division of responsibilities and authorities between participants is clearly defined and facilitates the collaboration.
Work processes and procedures – the existence of clearly defined work processes and procedures which facilitate the collaboration.
Interaction
Partnership – a sense of partnership.
Trust – the extent to which the relationships between key participants is based on mutual trust and honesty.
Communication and the quality of discourse – the extent to which the dialogue is based on openness, respect, mutuality, empathy, fairness and intimacy.
Conflict management – the extent to which conflicts are effectively managed.
Decision making processes – the extent to which decision making processes are conducted through sharing and consensus.
Tolerance and containment – the level of tolerance for interpersonal and intercultural differences and the level of containment of different perceptions and sensitivity to personal needs.
Commitment
Transparency – the level of transparency and sharing of information between participants.
Priority – the place of the collaboration within the managerial-organizational priorities.
Availability – ???
Resources – the investment of the resources required for the collaboration by all of the participants.
Implementation in practice – the relation between the declaratory and practical attitudes.
Dealing with conflicts of interest – the extent to which structured tools and mechanisms exist for the prevention of conflicts of interest and for dealing with them.
On all 4 dimensions we can identify 3 levels of interface – the basic level is Coordination, the medium is Cooperation, and the high level is Collaboration. The analysis assists in identifying where we are, and deciding where we aim, together.
The ECA Model is implemented in different organizations and facilitates many processes, parallel to its empiric validation. It is a developing effective tool that assists in creating a substantial change in the field of collaborations and partnerships, manifested at two levels: the conceptual level and the practical level. At the conceptual level, leaders must embrace a consciousness and perception of collaboration and adopt collaborative behavioral patterns. It is both on the 'being' level and at the 'doing' level. The model is a useful tool for managers both as a mindset and as a framework enabling structured collaboration.
One must not assume that collaboration would succeed on its own, by some undisciplined, unplanned, unstructured random chance. One must therefore make use of structured collaborations in accordance with an ordered methodology. Any organization seeking effective collaborations must adopt these tools and put them to work. Such tools would allow executives to benefit from better control over processes, the achievement of goals, an improved conduct within the organization vis-à-vis colleagues, subordinates and superiors. This should result in innovativeness, increased profits, decreased costs and so forth. Organizations are required to educate and train executives in the skills of leading effective collaboration.
In the bottom line, these tools would allow higher effectiveness of both the executive and the organization. In a world where complexity, chaos, change and co-dependence are becoming increasingly more prevalent features, tools of collaboration are now a 'must have' and not just 'nice to have'.
Omri Gefen is the CEO of the Gevim Group, and a lecturer at Tel-Aviv and Ben Gurion Universities.
omri@gevim.co.il
The ECA Model is a registered model.